The National Press Club Journalism Institute provides digital and in-person training and support to journalists and communicators serving their communities around the globe. Stay in touch with our growing community by subscribing to our newsletters and following us on LinkedIn, Twitter and Facebook.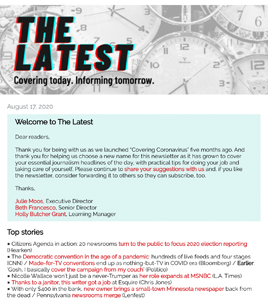 The Latest is a daily newsletter with journalism insights we send Monday-Thursday afternoons to help journalists serve the public safely through this pandemic, protests and more. It includes news, how-to's, tips and best practices, and career advice. (View previous editions here.)
Subscribe to The Latest:
We also send a monthly newsletter that highlights the Institute's professional development & press freedom offerings. It includes information about our skills training, educational programs, networking events and press freedom efforts. (View previous editions here.)
Subscribe to our monthly newsletter:
Your privacy is important to us. Our subscriber list is used only for digital communication with those who opt-in. You may opt out at any time.