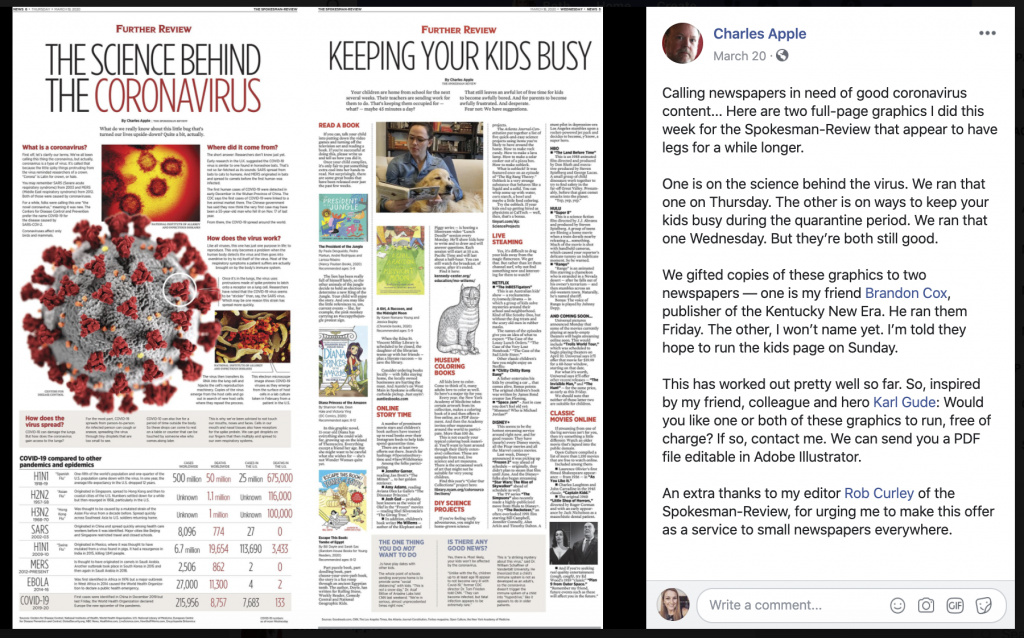 On Sunday, Charles Apple's hometown got to see the Atlanta-area graphic designer's pages run in their own The Index-Journal (Greenwood, S.C.). It's one of 16 newspapers that have reached out to republish two of Apple's full-page coronavirus graphics — one science piece and one on how to keep your kids busy at home — that he made available for use last week.
What prompted you and your editor to share the pages with other news organizations?
My friend Karl Gude built a nice graphic on how to break the chain of infection, and he gave it away for free to all takers. I suggested we use that as the centerpiece of our Thursday Health section and our Features editor, Don Chareunsy, agreed.
Meanwhile, I did two full-page graphics last week — one science piece and one on how to keep your kids busy at home. It occurred to me that we ought to pass it forward. The editor of the Spokesman-Review, Rob Curley, encouraged me to do that, so we both sent out notes on social media. The hope is that smaller papers that don't have resources to create material like this can pick it up and use it.
The pages you create are information-dense and reader-friendly. What advice would you share with journalists attempting to achieve the same user impact with their own stories and visuals as coronavirus coverage continues?
Designing a page that's reader friendly can be a real trick — especially because the more dense you make the page, the more overwhelming it is for a reader. One of my tricks: I make a list of the four or five main points I want to make each time and then I plan my space to emphasize those main points.
I try to use bits of color and larger visuals to draw the reader's eye to those main points and to help the reader flow through the page.
Another good tip: Not everything is a graphic. Sometimes, some stories work better as stories. If you'll look at my "Keeping your Kids Busy" page, you'll see that it's really just a story, laid out on a page. I see a lot of newspaper visuals that fail because someone tried to shoehorn the material into a format that didn't work for it.
For the coronavirus topic, all this is extra-difficult because the information is so complex and there is a lot of incorrect or downright false material out there. You want to make sure you're drawing from reliable sources.
Charles Apple, features designer/graphic artist, The Spokesman-Review
You can find copies of Apple's pages here.