The National Press Club Journalism Institute has appointed Beth Francesco, an experienced educator, press freedom advocate, and editor, as the organization's next executive director.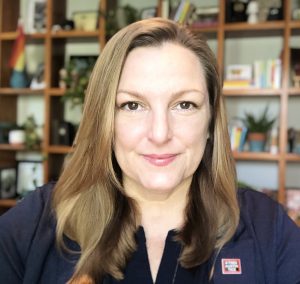 Francesco was unanimously approved to lead the organization, which is the nonprofit affiliate of the National Press Club, as it redefines and expands its professional development offerings and press freedom initiatives in light of journalists' evolving needs. The Institute serves thousands of journalists throughout the country through its webinars, afternoon newsletter, scholarships, and other resources.
Francesco has served as interim executive director since October, when Julie Moos left the role after shepherding a period of rapid growth and a pivot to fully virtual services during the challenging circumstances brought on by the COVID pandemic.
The Institute board determined that Francesco has shown incredible energy, initiative, and talent in driving momentum forward while planning a return to in-person activities and establishing infrastructure to expand the Institute's service areas.
"Beth has shown that when faced with a challenge, she can come up with new solutions," said Institute President Gil Klein. "She has worked closely with Club teams to create programs that fit the Institute's mission, and she has shown a drive to find new revenue sources that will expand its reach. She is the right person at the right time for this job."
Club President Eileen O'Reilly said she is enthusiastic with the choice.
"I know that Beth will lead the NPCJI to its highest level yet," O'Reilly said. "Beth has a steely strong commitment to our press freedom mission and our drive to foster excellence and opportunity for journalists everywhere, and I look forward to seeing what she accomplishes in the years to come."
Francesco says the Institute is poised to provide meaningful support as the industry continues to transform.
"The opportunities and challenges ahead for journalists are many," Francesco said. "Among the things we've shown during the last several years is our ability to be nimble and use our platforms to tackle tough issues — while celebrating and amplifying the great work being done by journalists in communities throughout the country.
"I'm grateful for the chance to explore ways to sustain and protect strong journalism while empowering the journalists who produce it."
Francesco's immediate plans are to hire staff that will bolster the Institute's professional development and fundraising initiatives. It's essential we increase our capacity to serve, she said, while diversifying our financial resources. She plans to develop signature training programs, including fellowships, on-site workshops, and other hands-on learning opportunities, that capitalize on the location of and strong talent within the Institute and National Press Club. And press freedom remains core to the Institute's mission and work.
Collaboration will be key, she said. "The Institute is fortunate to have incredible partners who agree that journalists are critical to a healthy democracy," Francesco said. "With their support, we'll create innovative paths for journalists to explore their craft, get career support, and find a sense of community."
About Francesco
Francesco joined the Institute team in August 2019. She was promptly promoted to senior director in January 2020, just months before the COVID pandemic changed everything about how the Institute operated and was financed. She worked hand-in-hand with Moos to develop new fundraising, training, and communication strategies and was promoted to deputy executive director in January 2022.
Prior to joining the Institute, she was the advisor and director of the acclaimed Student Publications Department at the University of Texas at Arlington and was involved as a leader with multiple nonprofit organizations. She's also had a successful editing and writing freelance career.
Francesco got her professional journalism start as a copy editor/designer-turned-metro editor at the Corpus Christi Caller-Times in South Texas. Francesco holds an M.A. in journalism from University of North Texas and a B.A. in communication from the University of Texas at Arlington.
You can reach Beth Francesco at [email protected] for information on upcoming training and programs, to exchange ideas for serving journalists, and to learn how to financially support the Institute's important work. Follow her on Twitter or on LinkedIn.