The National Press Club Journalism Institute is spotlighting the next generation of journalists, students who graduated from college or Master's programs this spring into a challenging job market. We hope they'll meet future bosses and colleagues here, who will reach out and support them in building journalism's future together.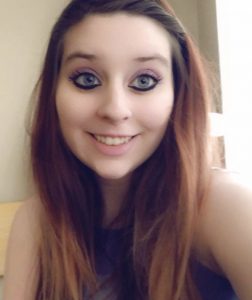 Name: Allyson Nichols
School: Kent State University
Location: Kent, OH
Internship: Akron Life Magazine
Journalism hero: Jacqueline Carlyle
What have you learned from your involvement with student media on your campus?
Nichols: I've learned how to become a better writer and interviewer.
What have you learned from your internship experience(s)?
Nichols: With my internship at Akron Life Magazine, I learned the amount of hard work that goes into a magazine, along with how to write in a more creative magazine style.
What's been your best moment in journalism?
Nichols: Honestly, it's been every moment one of my stories has been published. There's nothing like the feeling you get when your story is done and people are able to finally read it and enjoy it. It's such a feeling of satisfaction and excitement.
What do you want to accomplish in your journalism career?
Nichols: I just want to be the best writer I can be. I've become so passionate about writing in the past five years, and I just want to continue growing as both a writer and a person. I want to have that story someday that makes me stop and think, "This is what made all of that hard work worth it."
If you could meet any journalist and ask for her/his advice, who would it be and why?

Nichols: Honestly, the journalist I want to meet is a character from a TV show called "The Bold Type." Her name is Jacqueline Carlyle and she's such a powerhouse of a woman. In the show, she's the editor-in-chief of "Scarlet Magazine," so I would ask her what it takes to get to where she is at and what advice would she have for a young woman just starting out in the journalism career field because I think having someone to look up to like her is so important and I want to be that for somebody someday.
What do you want potential employers to know about you?
Nichols: I'm very passionate about writing and look forward to having opportunities that will allow me to grow as a writer and a person. I work really hard on every story I write no matter what it is because I believe every story deserves every bit of effort you can give it.
When you aren't practicing journalism, how do you spend your time?
Nichols: I like to spend time listening to music and writing poetry. I have a minor in creative writing, and poetry is something else I've grown really passionate about.
To support journalism students, contribute here to scholarships.
Tags: Class of 2020