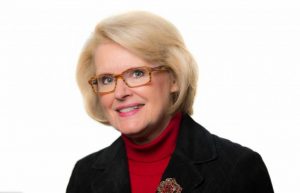 We interrupt this program for an encouraging word.
Journalists are nothing if not resourceful. They adapt to new tools and technology. They endure staff and budget cuts and still produce quality. They find information people want to hide.
And now, whether at home, in eerily-underpopulated newsrooms, or from safe-as-we-can-make-them field assignments, they are delivering essential information during a pandemic.
While doing this work, every one of these professionals is also affected personally by COVID-19's threat or its real manifestation in their lives.
We must never lose sight of that.
Resourcefulness and resilience are the driving forces behind every good story, photo, video, graphic, newscast, program, podcast, interview, documentary, and community service project that we're seeing and hearing today.
Those qualities – resourcefulness and resilience – need to be supported with empathy, appreciation and respect. We can share that from the inside, as co-workers and managers.
It can come from the outside, too. Messages of support from readers, listeners and viewers provide a lift, so it's important to circulate and celebrate those. They are an antidote to stress, politically-driven scorn, and the fatigue that can affect any one of us on any given day.
The best leaders understand the importance of encouragement – and know that even small gestures can go a long way.
A news director friend asked if I'd help him with one of those moments this week. His email said: "The staff is doing pretty good, but I am trying to find great inspirational things for them to see and hear as they continue to work through this crisis day by day." He asked me to drop in to his morning Zoom news meeting as a surprise guest, adding, "I hope you can reinforce that their work is so critical right now and that their work has true meaning and purpose."
So, I "Zoom-bombed" them. I stole just a few minutes of their busy agenda to talk about the road ahead, the reporting challenges they will face, and the people whose lives depend on their commitment. It was a combination reality check and rally.
If you're in a position to invite a surprise cheerleader whose words would be meaningful for your team, go for it. If you're the invited guest, please accept.
Resourcefulness and resilience grow stronger with respect.
Editor's note: We asked Jill if she'd drop in to some team meetings of our newsletter subscribers. She's game. Send us your request here and we'll choose one each week.
Tags: Leadership