The National Press Club Journalism Institute is spotlighting the next generation of journalists, students graduating from college or Master's programs this spring into a challenging job market, in hopes they'll meet future bosses and colleagues here, who will reach out and support them in building journalism's future together.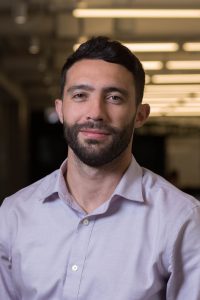 Name: Joe Snell
School: Northwestern University, Medill School of Journalism
Location: Washington, D.C.
Founder and Editor: The Assyrian Journal
Reporting from: Iraq, Paris, Germany and Brussels
What have you learned from your involvement with student media on your campus?
Snell: If your mother says she loves you, check it out.
What have you learned from your internship experience(s)?
Snell: I joined a news outlet's congressional correspondent to cover impeachment hearings on the Hill. As we sat in the House press gallery, I remember being surrounded by great writers representing some of the most prestigious newsrooms in the country and feeling a bit intimidated, but the correspondent I accompanied helped me feel like I belonged in that room because I was doing the work to help him get the story. I learned that if I do the work, I belong, it felt that simple. Understanding that belief helped calm my nerves during the press briefings and conversations that I would embark upon in the future. It was a great feeling.

What's been your best moment in journalism?
Snell: I pitched a story to Al-Monitor about a new show premiering for children in the Middle East that was designed to help them learn to understand and communicate their emotions. Before my reporting, I read a number of stories about the show that all followed the same script: talk to the show's EP, maybe one of the organizations funding the initiative, and then move on to the next story.
But I believed this new show was so critical for children in the region that it would be important to talk to one of the children that watched the premiere. So after many phone calls and email exchanges with multiple organizations and hitting a number of dead ends, I was put in touch with a contact that allowed me to access children in Syria that were gathering to watch the premiere. The comments from the children were so different and authentic from the executives and funding organizations in a way that captured the story perfectly. It was the first time these children were asked about their thoughts of the premiere, I later found out. The reaction from the children was a small bit to include in my final story, in total only a few grafs, but I believe it made all of the difference.
What's the wackiest story you've worked on?
Snell: I covered the story of a woman on her 100th birthday as she prepared to fulfill her lifetime dream of flying in a hot air balloon. Her bridge club friends gifted her the opportunity, so I joined the group as we left from a parking lot early in the morning to a field in the middle of nowhere outside of Fort Worth, Texas. I remember following the balloon in a van with her bridge club friends as we watched her sail through the air. During our time in the van, we discussed her storied life and much of that conversation was included in the story. When we landed, we all celebrated the flight. I made great friends that day.
What do you want to accomplish in your journalism career?
Snell: There is a window of media coverage into the Middle East and most news outlets and reporters are fighting to see the world through the same window. I hope to cover the region from a new window. I want to cover authentic stories of the Middle East that capture another side to the death and destruction. There is so much hope and resilience in the region and I hope to capture these stories.
I created the Middle East Minute, a weekly social media video series that highlights some of the top headlines coming out of the Middle East. It's a series that I hope educates audiences about news from the region that they may miss in the larger daily news cycle.
If you could meet any journalist and ask for her/his advice, who would it be and why?
Snell: Marie Colvin. Marie seemed capable of capturing vivid details of her surroundings and immediately capturing the heart of the story. I would ask her advice on unique ways to describe these scenes, including what details to look for, and also how to identify the heart of the story.
What do you want potential employers to know about you?
Snell: I'm looking forward to working hard, making no excuses and letting my work do the talking.
When you aren't practicing journalism, how do you spend your time?
Snell: Spending time with my dog. Watching USC football. Following the Tour de France. And backgammon.
If you're a senior studying journalism, or know one, we're accepting information here for students to feature in the future. If you're a supporter, you can contribute here to scholarships for journalism students.