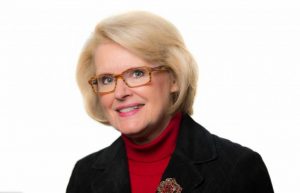 The journalism students sent me their questions in advance. Most were variations of these:
"What advice can you give us in applying for jobs at a time like this? Are employers even looking to hire? Do you recommend we continue applying for positions?"
As I prepared to talk with a class of graduating seniors, I thought about the boilerplate lessons I always share with our Loyola School of Communication students: how to craft winning resumes, which work samples to submit and what hiring managers are looking for.
But this conversation was different. This class of muliti-media storytellers just had their worlds upended by COVID-19.
They were sent home from school but must keep learning about work that's better done up close and personal. They're no longer in control rooms and studios with state-of-the-art tools. They're not right there in an office or classroom with professors who can look over their shoulder at a script or an edit on a work in progress.
They're doing their best from a distance, thanks to adaptable professors like my colleague Lee Hood, whose class I visited via Zoom.
They are marking the days until their commencement ceremony, in whatever form it might take. As they do, they see reports of newspapers folding, newsroom salaries cut, and journalists enduring furloughs and layoffs.
I can't sugar-coat things. It's rough out there.
But it's not impossible, especially for those who can work on any – or every – platform.
Many broadcast outlets, for example, are on the lookout for MMJs and producers for their on-air and digital offerings. Those that have put hiring on "pause" hope to resume it.
So I met the students at the corner of optimism and realism and gave them advice, which I share with all graduating seniors who are stepping into the storm:
Apply: Don't talk yourself out of trying. Go to sites like SPJ's Journalism Toolbox, the new Inside the Newsroom job board, or Prof KRG's jobs and internship page for leads. Look at the home pages of station groups (here's Gray TV's, for example) to check their job listings. Network in every possible way you can. Your job is to apply for jobs.
Shine the light on your skills. Employers want to know what you can bring to the party on Day One. They're more interested in what you can do than what you have studied. What hardware and software have you mastered? Can you create and edit audio and video, design graphics, write programs, build websites, strategize and execute on social media? Are you a rock solid story teller – on deadline? Do you speak several languages? You may take some of these things for granted by now. Make certain your potential employer sees your skill set.
Showcase your best work: Make it easy for a hiring manager to see what you've already produced. Point them to your user-friendly website and YouTube channel. Assume the manager has 100 applicants for the job and is pressed for time. How will your work catch their eye immediately?
Demonstrate market knowledge: No matter how many pitch letters and resumes you send out, customize them. Show you've done your homework about your potential employer and the community where you hope to work.
Keep producing: Even when the semester ends, keep producing new content. I believe this can be your secret weapon. Why not use the tools you have at home – from your cell phone to desktop editing to create new stories? Why not write and self-publish online?
Dazzle with your adaptability and creativity: Think about life around you right now – and the abundance of reports you could develop. Document your job search as a story. Interview (at a safe distance) your postal carrier about life on the route while funding for the Postal Service has become a political football. Show people how to ensure they have every possible option to vote in their state for upcoming elections. These efforts can show a hiring manager how enterprising you are.
Keep learning: As you wait for your foot-in-the-door job to materialize, add to your skills.

IRE (Investigative Reporters and Editors) has made gobs of good training free for a year. So has Poynter. Not only will you get more tools for your personal tool kit, you're likely to impress a hiring manager with your commitment to continuous learning.

Don't be offended by silence or brevity: The hardest part about doing all the right things during a job search is how tough it can be on your self-esteem. Every job you apply for raises your hopes. Every rejection dashes them. The no-replies or brief replies seem cruel.

But please know how challenged every manager is right now. Never has it been harder for them to keep up production, quality, strategy and morale. They are doing everything from a distance, on a prayer, and while juggling their own work/life stresses during this pandemic. They're straining to care for their teams and may have less time than ever for the aspiring employees knocking at their door. Be empathetic about their reality as you press on to become a part of it.
Most important, keep loving journalism, even when the profession has yet to embrace you with a paycheck. Keep being a student of the news. Stay smart and resilient in these critical days,  so when the call comes, you'll make our craft better.
This column inspired a new feature coming to the Covering Coronavirus newsletter. Starting today, we invite students to share information about themselves. We will begin featuring the class of 2020 in the newsletter, to introduce them to managers and leaders in newsrooms across the U.S. and around the world. If you are a member of the class of 2020 or know someone who is, please spread the word.
Tags: Career, Leadership